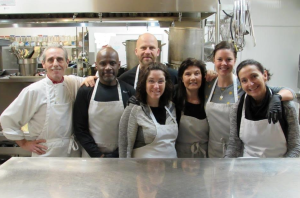 AT WCCMT Victoria, we've had a chance to talk with many amazing students, faculty and alumni. As the year comes to a close, we'd like to review a few of the highlights:
In Jamie Johnson's blog, we learned about the importance of community involvement. When he isn't providing massage therapy treatments, Jamie is busy teaching at WCCMT clinics, volunteering as a firefighter or supporting other RMT's by writing informative blogs on his website, www.themtdc.com. Like Jamie, Matt Clark wants to contribute to his community by providing holistic, healing services for others. After a long career in the hospitality industry, he's returned to school at 35 to achieve his dream of helping others through massage.
Stephanie McDowell shared a letter of her journey in finding massage. Being a folk dancer since age 17, she discovered early that massage was the best remedy for the injuries she would often sustain when performing. She achieved her dream of helping others as a massage therapist after graduating from WCCMT, and finds joy in helping others relieve their pain and enhance their quality of life. Like Stephanie, Morgan McIntosh's, we learned that sometimes it's our experiences that can bring us to massage therapy. As an avid surfer and yoga instructor, Morgan was always interested in strength and wellness, and found that massage therapy was a natural fit. She loves that she can help people by freeing them of pain while still having the flexibility to continue surfing and yoga on a regular basis.
We are so thrilled to continue bringing you the stories, advice and inspiration from the College of Massage Community. Remember, to stay in touch with us, you can follow us on Facebook, Twitter or join our Page on LinkedIn.
Are you interested in sharing you journey with us or would like to be featured on a blog? Then contact us at [email protected].