The Vancouver Friends for Life Society has been in operation since the 1990's. They offer a variety of holistic health programs to clients living with and recovering from a number of life-threatening diseases.
One of these treatments options is massage therapy services, provided by the students at West Coast College of Massage Therapy.
Students routinely make the trip from their New West campus to the West End Vancouver heritage house to offer their services to clients at Friends for Life.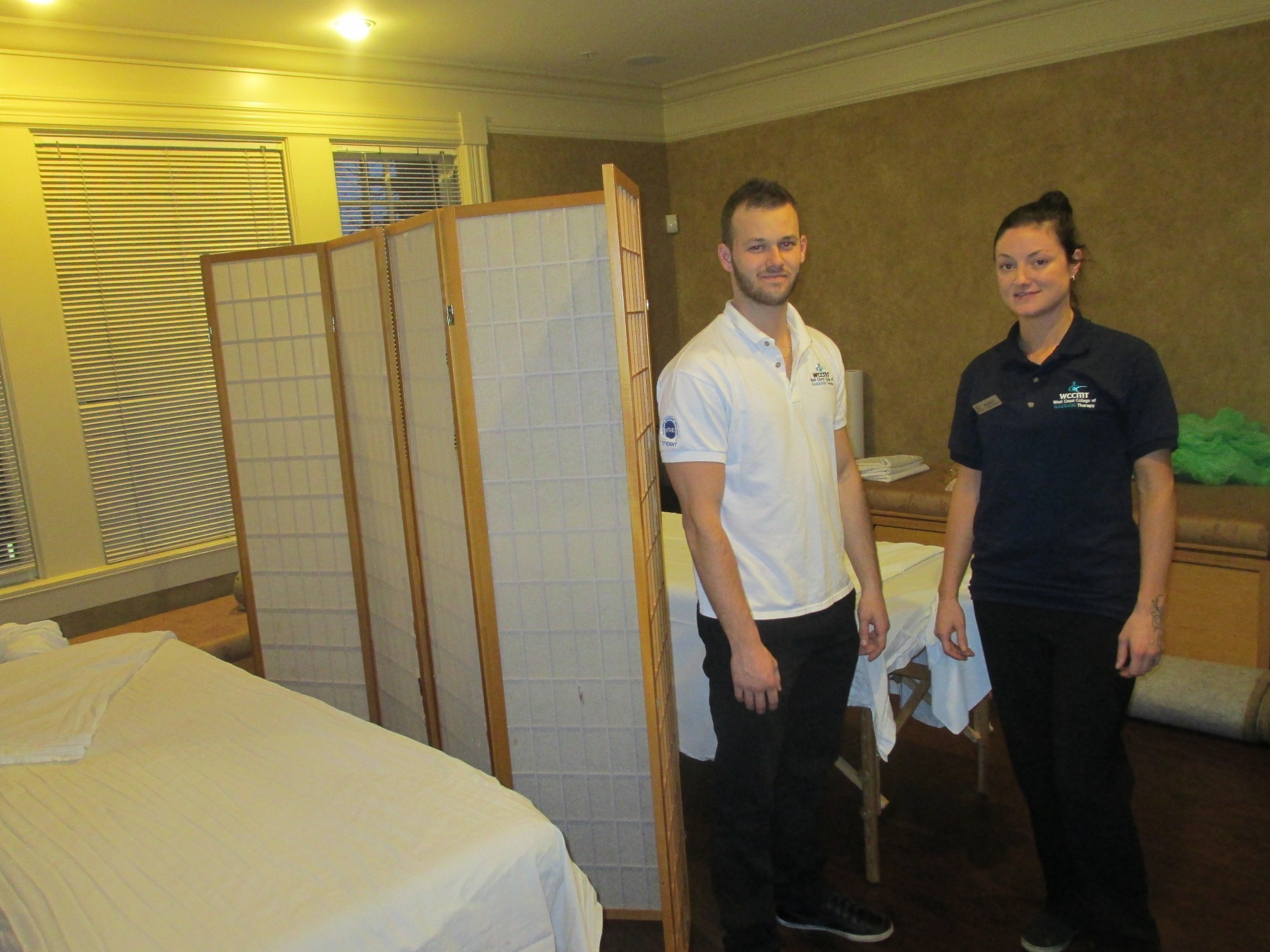 Four students set up in three spacious rooms, dimming the lights, and sometimes even setting up candles to create a relaxing and welcoming experience.
Once the rooms are ready, each outreach session starts with students reviewing patient files with their clinic supervisor, in this case, Chelsea Leondias, who highlights any specific conditions or requests students need to be aware of.
Chelsea is a WCCMT graduate, and returned to campus after starting her RMT career to work with these types of groups again, and mentor future RMTs. Reflecting back on her time as a student, she commented that at the time she didn't fully understand the power of compassion, and now that she's worked with a wide variety of clients she can see that it's the personal touch that matters.
Here, students learn how to treat not just the body, but also the emotional state of a client. An important skill gained is the ability to understand what a client needs without them having to verbalize it themselves.
Four term-three students spoke on why they enjoyed working at the Friends for Life outreach, apart from being able to work with an "amazing and helpful" clinic supervisor in Chelsea.
Nathan enjoyed learning how he could help with the specific issues clients dealing with chronic illnesses face, and found the place "very welcoming, I haven't met anyone who's not friendly."
Omer agreed that the house provided a positive environment, and commented on the ability to repeatedly see and follow-up with some of the same patients every week, forming a relationship that allows him to better address their needs.
This was further elaborated on by Marika, who noted she enjoyed seeing the impact she could have on patients, "it's great seeing how happy these people are, and that we impacted that," she said.
Zsolt also noted that the placement allows students to work the different groups, and learn that they all have their own life issues. "It's nice to learn about them, and how to interact and make them comfortable," he said.
Learn more about Friends for Life, and how you can help them continue to provide their invaluable services at Friendsforlife.ca