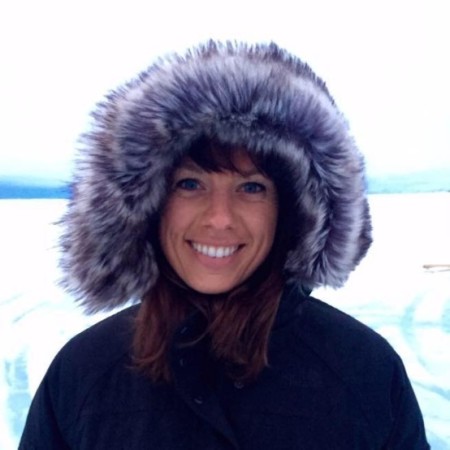 Meaghan Mounce has traveled from one inspiring job to another, and now she is taking her job with her as she travels to Nunavut. In her travels, she highlights the importance of taking the time to embrace the culture and people that live within the community within which she works. Along with being very active, she enjoys seeing the affect her work had on others. We loved taking the chance to chat with Meaghan about her experiences. Read all about Meaghan here!
What inspired you to become a RMT?
  Meaghan: After completing my Bachelor of Science, I decided I wanted to work more closely with people. I became a personal trainer and group fitness instructor and loved being part of people's fitness and health goals. However, it soon became clear to me that for one to feel well there needed to be more than just focusing on body composition. At the same time I started receiving massage therapy treatments for chronic tension headaches and found it was very beneficial. I love to learn and decided to go back to school!
When did you first come to WCCMT? What has your experience been like?
Meaghan: I started at WCCMT Victoria as a student in 2008 and loved my time there. My instructors were entertaining and brilliant. My classmates were supportive and talented.
Two years after graduation I went back to WCCMT Victoria as an instructor. I was asked to take on the Nutrition course and immediately fell in love with teaching! I spent two terms as a clinic supervisor and focused only on instructing after that. Along with Nutrition, I taught Hydrotherapy, Research and Statistics, General Pathology and Therapeutic Exercise. Although some days were challenging, I felt very grateful to be a small part of future RMT's education. I spent a lot of time with the students, helping and marking their case presentations. I was amazed at how passionate they were about their subjects and clients.
What do you love most about being a RMT?
Meaghan: Often as a RMT, you are the best part of a client's day, week or even month. I always feel very honoured that I am able to be that person.
What are your other passions?
Meaghan: I'm very passionate about fitness and spend a lot of time in the gym. I love the lifting big weights and feeling strong. This is not only good for me, but good for being an RMT! I have spent over eight years instructing group fitness classes and love watching people push themselves while I get to motivate them. I also love everything outside: hiking, paddle boarding, fishing.
How does being a RMT fit into your lifestyle?
Meaghan: Being an RMT fits my lifestyle amazingly! I have never imagined myself having a 'desk job' and I'm happy I chose a career where I get to move my body. I also love not working a typical 40 hour week. My self-employed career enables me to get into the gym, be outside and spend time with family and friends.
Do you have an area of focus? If so, why have you chosen this area?
Meaghan: I don't have a specific area of focus and am happy to treat any client and condition. I do have more of an interest in movement and mobility and stability of the body. I have taken courses in functional movement and training. I have also spent a lot of time with women before, during and after pregnancy and have found it very rewarding. I have taken courses in massage during pregnancy as well working with caesarean section scars tissue.
Where are you currently working and how did you come across this opportunity?
Meaghan: I am currently living in the Canadian Arctic in Iqaluit, Nunavut on Baffin Island! I just arrived here at the end of May and it is bright 24 hours a day and cold! Iqaluit is a city of around 7000 people. While it is very isolated, everything you need is here: grocery stores, movie theatre; a fitness gym, curling rink, indoor soccer field and even Tim Horton's!
Nunavut is not a regulated territory and so there is no College or Association for Massage Therapists. I contacted the Northwest Territories Massage Therapy Association to see if they had any contacts in Nunavut before I moved. However, after asking around the president said none of their member's knew of any RMT's in Nunavut. From my own research I found out there is only one other Registered Massage Therapist currently working here in Iqaluit. I decided to contact her prior to moving as I didn't want to jump into the city and step on any toes!
After I felt settled in Iqaluit, I contacted the yoga studio, Saimavik (meaning a "place of happiness" in Inuktituk), and the owner quickly offered me a space to provide massage. I decided to just offer three days a week of massage. I am hoping to work a little less and experience life a little more, but still be able to keep my skills as a RMT!
Was travelling and working abroad as a RMT always part of your plan? If yes, what has always been your reason for wanting to do so? If not, what has moved you in that direction?
I had never had a plan to work as a RMT in a remote part of Canada or anywhere else in the world. After graduation, I worked in Victoria for almost four years and had recently moved to Nanaimo and stepped into a busy practice that I had no plans on leaving! When my boyfriend was offered a unique opportunity to work in Iqaluit for 13 months, we didn't hesitate to jumping at the chance to experience and live in the Arctic for a year! Life is short and we probably wouldn't have come up here for any other reason.
Where have you travelled to before as a RMT and where do you plan on travelling to in the future?
As a RMT I have not travelled anywhere else. I don't have plans to travel for work in the future. While it is an amazing experience, it is a lot of work to set up a self-employed business!
Do you have any other future plans?
After our year in the Arctic is over we will be moving back to Nanaimo. I hope to be able to return to the clinic where I was working before we left! While it will be a great experience up here, I know I will be excited to return home.
I was honoured when I was asked to be one of the coaches on The Massage Therapy Development Centre and have been writing articles for the site. Look for them coming soon! I hope to continue to offer my experiences as a RMT and share any knowledge I have to keep our profession moving forward. Eventually I would love to develop continuing education courses on therapeutic exercise and movement.
Do you have any advice you can offer to others considering working abroad?
Do your research first! Can you contact any other massage therapists and find out their experience? Be prepared to network and promote yourself; in small communities word of mouth seems to be the best way to get your name around. Most of all, get into the community and experience the culture and what the local's daily lives are like! I know that even though living in the Arctic is very different, it will be a time in my life that I will be happy I experienced!
If you'd like to read more stories from our graduates, check out Corey's blog post on his background, CCMH journey, and bright future.
Think massage is right for you? Start with our readiness quiz. Contact us with questions or tell us your story at [email protected].