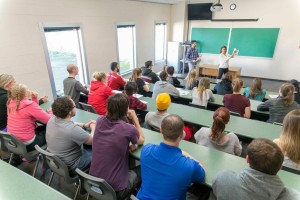 In a previous blog post with Liz Burdeny, Admissions Coordinator at our New West Campus, we reviewed the career choices of students, and how the making of first and second career choices differed from one another. Now, as the end of the school year is approaching for secondary schools, we asked Liz to share her experiences in working with recent High School grads. Mainly, we were curious to know her perspective as to why senior High School students are seeking a career in massage therapy, and what she has found are the benefits of attending our college right after graduating.
"From what I've noticed," explains Liz, "senior High School students are choosing Massage Therapy because they like that they will be helping those in need while having ultimate independence. They appreciate that this career enables them to choose their own hours and has such variety in where they can work, whether it's in a clinic, spa, from home, or on cruise ships. They also like that it does not limit or restrain them from switching employers or of moving into different areas of the field."
Liz adds that parents often play a huge role in the decision-making process. "I often invite parents to join students when they come in to meet with me" she says, "and from these meetings, I've noticed parents are supportive of this career because Massage Therapy is part of the healthcare industry, which is both stable and well-paying."
When asked why many of these youth come
into the program as soon as they graduate, Liz answers, "these are individuals who know what they want for themselves, and are ready to start their journey in achieving their visions". She adds that "September is always our intake containing the largest number of High School graduates. This is mainly because this gives them the summer off and then they continue their education in the fall. They have done this for the majority of their lives, since starting school in Kindergarten, so this option naturally feels right to them."
Liz noted that some of the main benefits of doing this is that they are still following the same routine and are still in that 'learning mindset'. In addition, she feels that "it is good to take advantage of the opportunity to further their education while they still have the family support". She explains that most students coming straight from High School live with family and are able to save money as a result. "They also tend to have less obligations and responsibilities, which means they are more likely to focus solely on doing well in college".
Because our minimum requirement is High School graduation and our program is only 20 months, we offer an exceptional opportunity for these students to quickly move from secondary school into a rewarding career within the healthcare industry.
What are your thoughts on the advantages of going into college right after High School? We'd love to hear from you with your story. Please leave your comments on our Facebook page or send your story to [email protected] to be featured on the CCMH/WCCMT blog.