Dr. Carlo Tala's Prescription for Managing a Clinic
Do you hope to one day run your own clinic? Are you curious to know what it will take to accomplish this goal? We've asked Dr. Carlo Tala to share his experience as Clinic Manager and give us his views on what it takes to successfully run a clinic.
Dr. Carlo Tala has been managing the student clinic at WCCMT New West for the past 16 months and certainly has a good grasp of what it means to be efficient and effective in management practices. Dr. Tala notes that in a nutshell, a manager is "the people coordinator, who also makes sure that the business is running smoothly and turning a profit".
Some of Carlo's tasks as Clinic Manager include coordinating schedules, solving disputes and addressing the concerns of students, staff and patients. In addition, he analyzes numbers to ensure there are enough patients, and collaborates with the marketing department to implement new initiatives if patient spots remain open. He explains that managing a clinic also means reinforcing policies, ensuring they are being followed, and when they're not, having courageous conversations and taking necessary measures. Carlo is also responsible for hiring the Clinic Supervisors, "It's very important to find the right people" he says, "for our clinic, this means finding RMTs that are passionate about the field, are professional and skillful, and are able to inspire our students. When hiring, I always look for individuals that make great role-models" says Dr. Tala.
In terms of the skills required to handle all these tasks, he explains that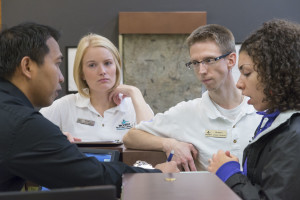 having a "sound base education is very important as well as being professional and ethical in character. In addition, you need strong leadership skills and the ability to troubleshoot and think ahead." Carlo loves challenges and this is clearly something that has made him very successful in his role. "As a Clinic Manager, you must enjoy being faced with a variety of challenges, to find solutions and solve problems."
As advice to those who are considering opening up their own clinics, Dr. Tala recommends that "the best place to start… … to find exactly what it is that you want to do. What is your passion? Is it working with pregnant women or athletes or the disabled? Then find a location that corresponds to this demographic." He continues, "Once you start getting those patients in, treat every single one as if they were a member of your family. Dedicate yourself to your patients. In doing so, you are offering your compassion and delivering your very best.   You will notice that word will spread and an increase in patients will follow."  It will only be a matter of time "for you to hire more RMTs" and when this happens, Carlo advises, "hire people who share those same values. Build rapport with them and promote collaboration – for it is the effort of the entire team that will either make or break a business".
It is through this interview that we have been able to write Dr. Tala's three keys to successfully running a clinic: Communication, Collaboration and Professionalism. He adds that it is important to measure success as well, as reflection and reporting is part of excellence in professionalism. "Measuring this success is as simple as looking at employee and patient retention. Does the clinic have a low employee turnover rate? Is the clinic getting repeat business and referrals from existing patients?" If the answers an no, you know you have some work to do, however, "If the answers are yes, then you know you are doing well!"
Do you agree with this? In your experience, what have you found to be the key components to operating and managing a successful business? Please leave us a comment on Facebook with your opinion!
To learn more about Dr Tala and other valued staff at WCCMT, please visit https://collegeofmassage.com/new-westminster/about-us/team/