From the Perspectives of: Sean Cannon, UBC Athletic Outreach Contact & Andrew Caldwell, Program Director of MMA training facility.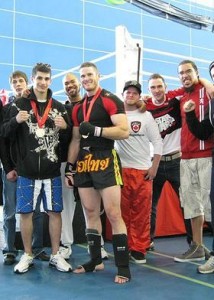 This month, we wanted to further investigate the positive affects of massage therapy on athletes. While we have learned of the many benefits through studies or personal experiences, it is important to also get the personal opinions from people who experience success time and time again. This month, we contacted Sean Cannon, a WCCMT alum and one of our UBC athletic outreach contacts as well as Andrew Caldwell, program director at Stand Up Muay Thai Kickboxing  to find out the difference they think a RMT can make.
In the outreaches that Sean supervises, WCCMT students treat Middle Distance runners during Cross Country Running, and Middle-Long Distance runners in the Track and Field Season. Selected WCCMT Students go to outreaches weekly, giving them an opportunity to work with an athlete or team through an entire season, while ensuring quality and consistency for the athlete in turn.
Having graduated from the College of Massage, Sean clearly understands the advantages of working specifically with WCCMT students. "I have a good grasp of where they are in their education, can communicate with their in-class instructors and can start showing them concepts and methods of treatment that are in line with their current curriculum. The goal is to strengthen their grasp of orthopedic and sports treatment, while providing a benefit to the athletes".
When we asked Sean why he feels Massage Treatments are beneficial to the athletes, he told us that "regular soft tissue massage of the athletes is great for maintaining tissue mobility and flexibility." Sean's experience has also showed him that massage treatments "prevent injury in terms of over-training…regularly checking in allows us to hear how training is going and catch potential injuries."
Andrew, from Martial Arts Studio Stand Up, agrees with Sean, saying that "For an athlete, especially a Mixed Martial Artist, the intensity of the training and competitions can be very taxing on the body. That's why it is especially important for them to receive massage therapy regularly during training." It is clear that Andrew thinks that Massage Therapy is useful for athletes and individuals in training, and he notes that "It is not enough to just stretch, a lot of the time the muscles need to be manually worked on to be able to perform at their optimum level. This also greatly reduces the chances for joint and muscle-related injuries."
Stand Up has been successfully operating for over 10 years and offers Kickboxing classes, Strength & Cardio Conditioning, MMA training, Competition Training, Pr
ivate Lessons and Corporate Packages for businesses. Within the community, Stand Up has worked with BC Children's Hospital, RCMP High-Risk Youth, EA Sports, and local high schools. People are drawn to the programs at Stand UP as they offer the opportunity of increasing strength, flexibility & cardiovascular endurance in addition to gaining self-defense skills and confidence.
As a previous student of Stand Up and current program director, Andrew thinks "Massage Therapy is a must in this day and age." Both Sean and Andrew believe in this for everybody, whether an athlete or not. "Stress from work, chores, and daily activities can put a strain on the human body," explains Andrew, "and Massage Therapy can alleviate much of that physical and mental stress."
Massage treatment is essential to the maintenance of tissue mobility, in preventing injury and in ensuring the best possible performance. What's your take on this subject? Why do you feel massage therapy is necessary for athletes or those in physical training programs? Send us an email with your opinion at [email protected] or post your comment on our Facebook page!