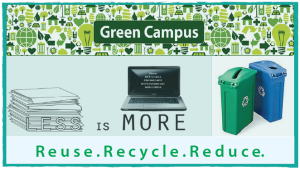 At WCCMT, we're committed to providing students with an environment that nurtures learning and growth. Further, we are always engaged in finding new ways of improving the efficiency and effectiveness of our campus. As the beginning of a new year is a time of resolution and improvement, the team at WCCMT are looking at areas in which we can grow to become more sustainable. For this reason, we have made it a goal to bring into focus a continuing vision of developing a greener campus this year.
In previous years, our school has successfully taken steps towards being environmentally responsible by implementing programs for recycling and reusing.  These initiatives have included an extensive recycling system along with the re-purposing of old materials.
WCCMT's recycling program currently consists of separating cans and bottles from paper and cardboard.  We've also made it a priority to ensure that recycling is a convenience by placing recycling containers wherever a garbage can is found. In our student lounge alone, there are three containers for bottles/cans and three for paper/cardboard. In addition, empty ink cartridges from all printers are picked up by our supplier for re-use and all old fluorescent light bulbs are properly disposed of and recycled.
In terms of reusing, the school has been creative in finding new ways of re-purposing old items.  For example, all the old linens from our clinic are cut into smaller pieces and used by our cleaning staff for dusting and other cleaning tasks. Many of the faculty also reuse their previously printed paper for memos and other non-formal documents.
As this campus has been successful with reusing and recycling these past few years, we look forward to implementing the New Year's resolution for 2015.  As a first step in accomplishing the goal of taking 'green' to the next level, we will be integrating a reducing component to our 'green' initiatives.  In mid 2015, the college will be working to reduce the paper consumption on campus.  Our aim is to decrease the amount of paper we use by offering more materials electronically.
Currently, there are several admission documents available online, and we hope to extend this to class materials starting in the spring. We will begin with all term 1 class documents and will gradually add materials each term until documents for all terms are accessible online.   This change will enable students to access class notes, class outlines and other materials online, whenever and wherever required.  We all feel that this is a necessary change in our efforts to reducing our carbon footprint.
This project will be a collaborative one and our team will be proactively working on ensuring a smooth transition for students. We are proud and excited for this new program and look forward to seeing a large reduction in paper consumption. With this new initiative, we will be contributing to a solution that is both economically and environmentally beneficial.
 Let's all make 2015 the year to do our part in helping the environment. It does not require much time and just a little effort can make a big impact.  Join us for our blog on January 26th to learn more about what other students, alumni and faculty members are doing to make a difference.